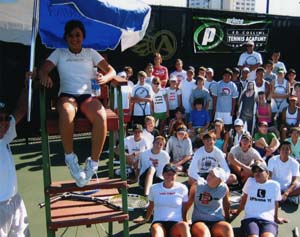 July 1, 2007 junior camp, at SDSU. In the foreground: Mariel Castillo Casta,
whose mother MariCarmenwas a camp counselor in the early '80s.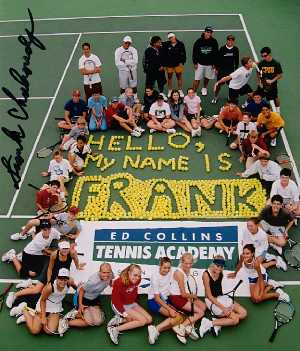 June 27, '04 camp photo dedicated to Frank Chaboudy, a student from the early 70s, whose grandson John Mears was in attendance, along w/22 SDiegans, 4/Mammoth Lakes, 2/Atascadero and 2/LA. 15 were former campers.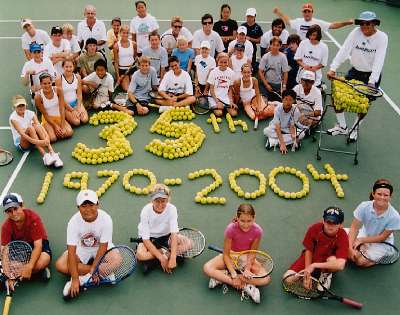 July 11, '04 camp. 35 refers to the 35th year of Ed's camp. (Began as a day camp in Lake Tahoe, in 1970; from '78-'96 held at U of San Diego, where Ed was men's tennis coach; at Point Loma Nazarene, mostly, since.) Former USD standout Terry Ward brought his son Terry and 11 St. Louis friends.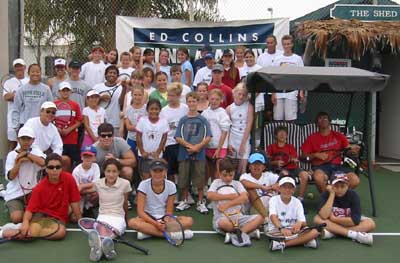 Aug, '04 day camp, at Peninsula Tennis Club in Ocean Beach, San Diego. Except one, all San Diegans. Seated in The Swing: former camper Danny Furman (La Jolla/UC Davis), along with Paul Genest.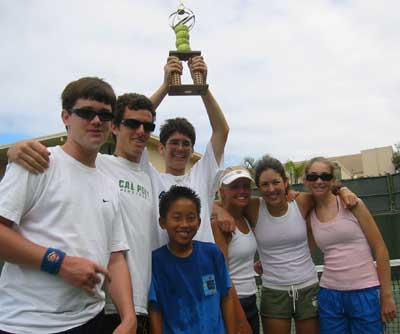 June 27, '04 "RTFO" camp champs, coached by Adrian Mardyks.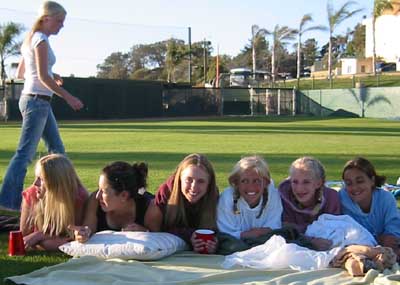 Non-participators at the June 27, '04 camp softball game: Evan Wood, Lindsay Eckert, Goldie Gurling, Katherine Heller, Caitlin Crunk, Jennifer Wilson and Madeline Bouvier.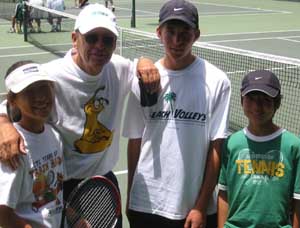 Ed w/campers Sarah Weng, Logan Garrett and Hamahito Hokyo at June 4, '04 camp.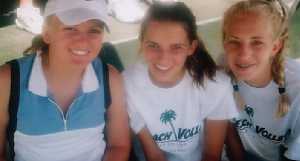 Poway represented at June 27, '04 camp: Samantha Mohr, Nadine Custis and Jennifer Wilson.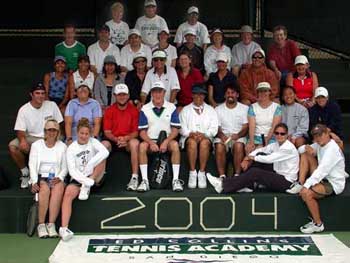 1971-2 students Jim and Midge Breeden (then San Diegans, now from Carson City, NV), attended June, '04 adult camp, along with children James and Terri (former junior campers) and their spouses Gloria Lee and Adam Whatley. Vying for most camp appearances: Barbara Ketover (Scottsdale, AZ), Ruth Parisi (Phx), Jocelyn Sherman (LA), Jacqueline Spadea (Saratoga) and Norm Ytterdal (SD).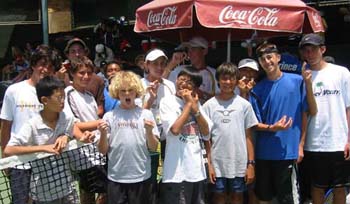 Beat the Coach (and 10-cent) winners at the July 4, '04 camp.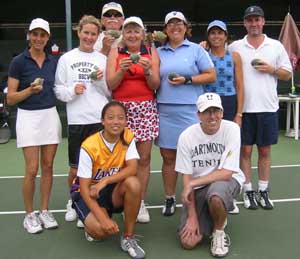 Andrew Evans and Lisa Shih (camp counselors/former campers), with June 4, '04 adult camp champs.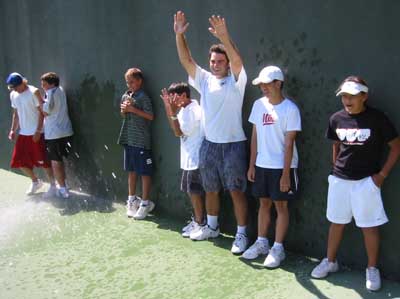 Brian Palmer-Ruben, again, with his July 4, '04 last place team.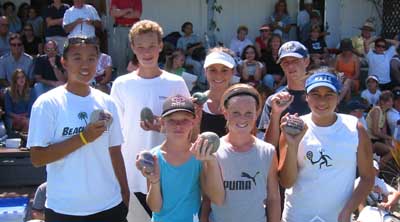 Lisa Shih, with Aug 1 camp champs, including, Laura Hogben, Carley Cooke, Sophia Dauphin, Kenny Stuart, Bobby Nelson and Lisa Johnson.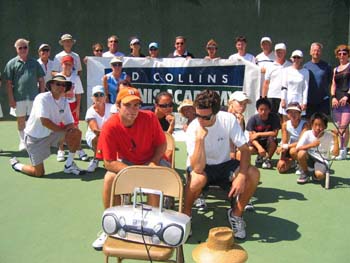 At the July adult/family minicamp, over half were repeaters, including Lynne Calkins (Encinitas), Dottie and Brady Emerson (Irving, TX), Rita San Ramón (Mex), Jim Carmody (Scottsdale, AZ), Duane Whitfield (Tucson), and San Diegans Mary Lou Harris, Chris and Paul Honeycutt, Al/Peggy Lieb, Jason Michal, and Judy/Alex/Eric Uyemura.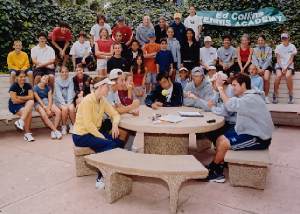 All but three attending the June 22-7, '03 camp at PLNU were San Diegans. Returnees included Brian/Michael Filice, Michael Miller, Eric Uyemura, Helen Altieri (Yuma), Maggie Deitering, Goldie Gurling (Hermosa Beach), Alicia/Roxanne Hanson, Matt Nusinow, Rachel/Sharon Reibstein & Isabella Tumini. Former camper Suzanne Katleman-Emge's son Zack attended.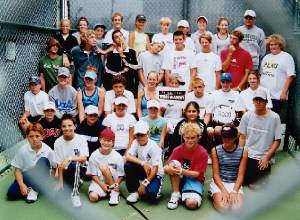 July 6-11, 2003 camp at PLNU, staring J.P. Boyd. Also: Shannon Ward and Kelly Erb (St. Louis), Alex/Klarka Placek (Del Mar), Mario de la Fuente (Nogales), Nick Moore and Sky Siemens (Templeton). Coaches included Stacy Meronoff, Mike Marquez and Davey Jones (Cal Poly SLO), Matt Clinton (PLNU), Tina Howe (Williams College), Jody Scheldt (Cal), Danny Furman (UC Davis).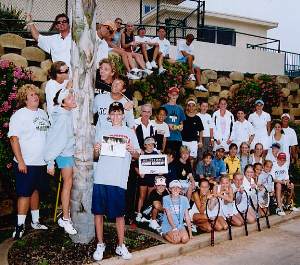 At the July 13-18, 2003 former USD netter Terry Ward brought 14 from St. Louis, including half of the Eric and Lacey Show(Lacey Flanigan). Also: Eric Hard and Arthur Miyazaki (Salt Lake City), Armando Santisteban (Cabo San Lucas), San Diegans Lauren Oversmith, Eric Uyemura, Taryn Smith, Stefan Peters, Kyle Maloy and Thomas Chippendale.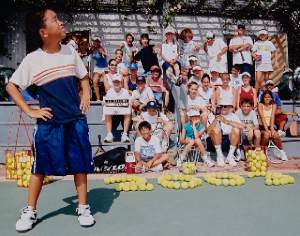 In addition to the 15 San Diegans at the July 27, '03 camp, at AIU: Alexandra Bué, France; Daniela Liera and Arturo San Román, Mexico; Michael Nunez, New Orleans; Juliet Rothenberg, Maple Valley, Washington.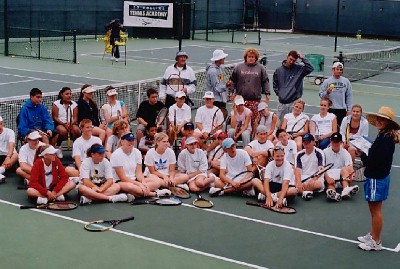 June, '02 camp at PLNU, featuring (?) Jenny Schwartz, the queen of Whitman College. Staff included the venerable Larry Willens, Van Chu, Matt Clinton, Danny Furman and Stacy Meronoff. Murrieta, CA was well represented with Jimmy & Corey Sheehan, Michelle Rodondi, Cody Piper and Michael Leckliter.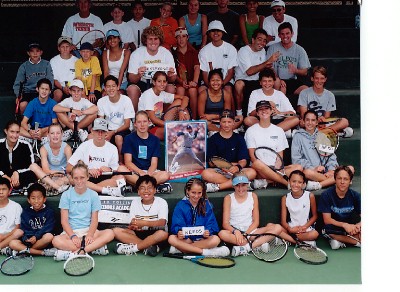 July 7-12, '02 camp at PLNU, featuring Fernando Valenzuela and campers, 8 from Poway, 6 from Del Mar. Four sets of brothers, five sets of bros/sis. Ken Dang (Murrieta) and Eric Uymura (SD) entertained, as did Brian Filice (Poway). Catherine Reed and Kelly Erb (St Louis) were repeat campers.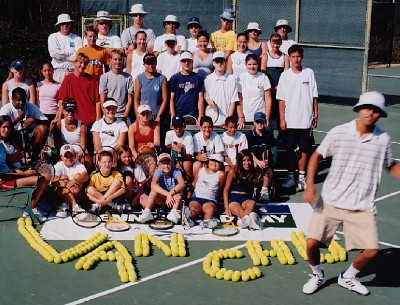 August, 2002 camp at AIU, featuring Van Chu in perhaps his final camp counseling performance. Campers from all over, including Megan Scanlon, North Carolina; Armando Santisteban, La Paz; Juliet Rothenberg, Washington; Bryan Miyashiro, Japan; Alissa Monk, Phoenix; Nick Moore, Atascadero.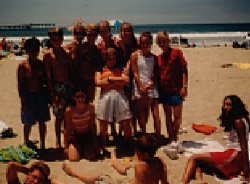 A beach trip for the August, 2001 junior camp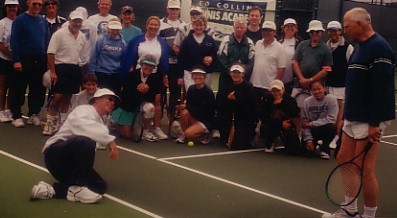 June, '02 minicamp, at PLNU, featuring the always young Jackson Spindle, 78. Repeaters included Lou and Steven Poanessa (SD), Jocelyn Sherman (LA), Bob McLaughlin (SD), Norm Ytterdal (SD), Len Breitfeller (Ajijic, Mexico), Tim Chu and Melvin Lew (Bay area), Mary Lou Harris (SD) and Kirk Jennings (SD).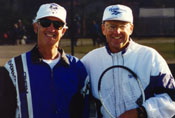 Larry Willens and Ed, 1999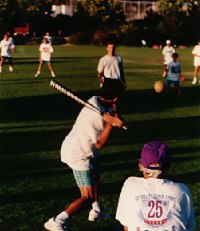 Weekly camp softball games--a tradition.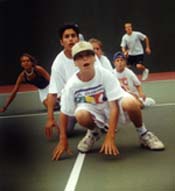 First down: Adam Palladino at June, '99 camp. Last up: Jeff Walker.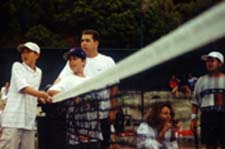 Kevin Ho (Spring Valley, CA), Brandon Martinez (La Verne, CA), Jon Roper (Torrance, CA) and Joey Belsky (Del Mar, CA) at June, '99 camp.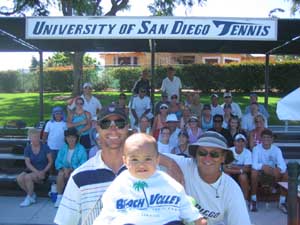 Aug 10, 2007 adult/family camp, at USD with USD
coach Tom Hagedorn. In the foreground: Ed,
Kevin Bradley (USD tennis, '90-93, Lorenzo Bradley.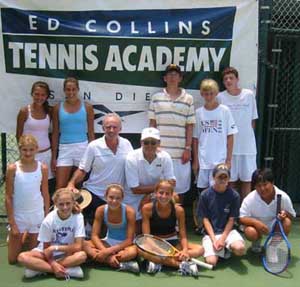 For the 3rd consecutive year, St Louis' Terry Ward brings a group, this time to the July 1, '04 camp.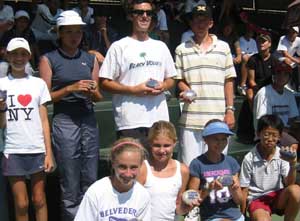 Adrian Mardyks (Cal Poly SLO) and July 11, '04 camp champs, including Katie Thone and Billy Thone (St Louis), Jungle Shih (Taiwan), Mackenzie Gaura (SD), Lacey Flanigan (StL), Linda Lee (Taiwan), and Melina Mastrodimos (Rancho Santa Fe).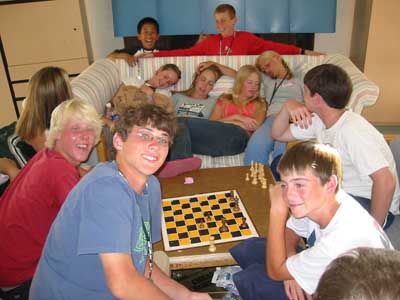 A dorm chess game puts 4 from Mammoth asleep at June 27, '04 camp.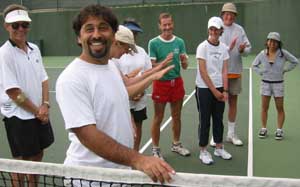 Ovie Soto leads June 4, '04 adult camp team to mid-standings finish.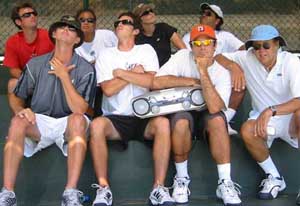 At the July 11, '04 camp, refers to the Kinks' "You Really Got Me Now". Front row: Davey Jones, Adrian Mardyks, Brian Palmer-Ruben, Ed Collins. Back: Stacy Meronoff, Lisa Shih, Katja Karrento and Ovie Soto. (You'd have to have been there.)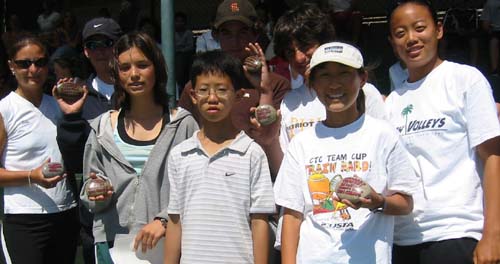 Lisa Shih w/July 4, '04 camp champs, including San Diegans (and former campers) Sarah Weng, Logan Garrett, Jordan Brown and Kevin Goldberg, along w/Jungle Shih (Taiwan) and Allison Rockwell (Carlsbad).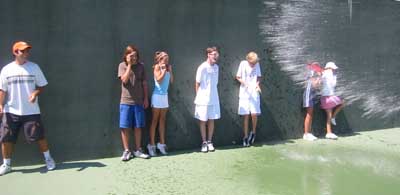 2nd-to-last-place team helps last-place team"celebrate" at July 11, '04 camp.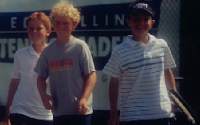 Zachary Cohn (San Diego), Kyle Rapp (Encinitas) and Nathan Meltzer (Bonita)
at July 6, '03 camp.


Coaches Stacy Meronoff and Davey Jones. Charlee Warford at July 6, '03 camp.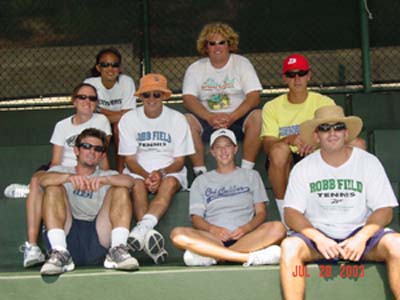 July, '03 minicamp staff: Tina Howe, Stacy Meronoff, Lisa Shih, Ed Collins, Matt Clinton, Jody Scheldt, Mike Placek and Stacy Meronoff. With exception of Matt, all former campers.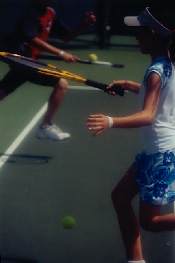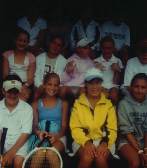 Taryn Smith (San Diego) w/o ball. St. Louis group, at July 13 '03 camp.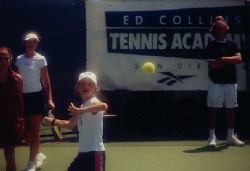 Mackenzie Gaura (San Diego) at July, '03 camp.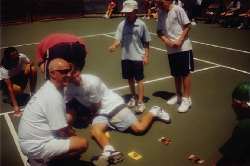 Larry Willens, et al at July 28, '03 camp at AIU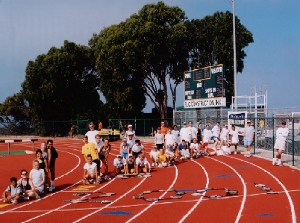 July, 2001 camp at PLNU. The racquets spell '2001'.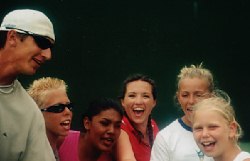 Coach Mike Placek (Del Mar, former camper), Tyler Johnson (Corona del Mar), Amber Agostini (Hemet),
Lisa Kloack (El Cajon), Courtney L'Ecuyer (Glendale, AZ) at June, '01 camp.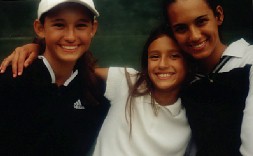 Vanesa, Sharon and Rachel Reibstein at July, '02 camp.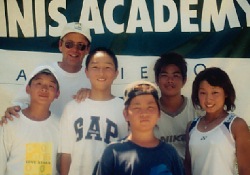 At Aug, '01 camp (for the 5th consecutive year),a group of Japanese students: Shoji Sugimoto, Shou Emi, Noriaki Kawatani, Tomohiro Kawatani and Maki Kawaguchi.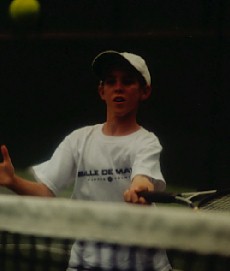 Bradley Klahn (Poway) at July, '02 camp.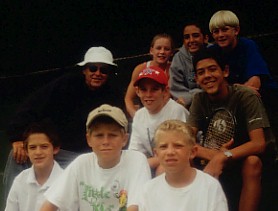 Poway attendees at July, '02 camp: Jake Fellow, Brian and Michael Filice, Steven Henderson, Haley Hickock, Bradley Klahn, Michael Miller and Isabella tumini.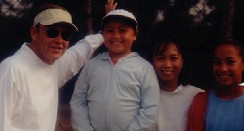 Second generation campers Rose and Kelley Fox (La Cañada, CA) at Aug '02 camp. Mother Rose attended camp in 1977.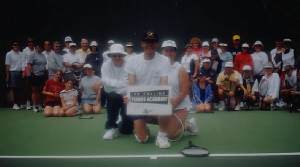 June, '03 minicamp, with Ed, Benny Lee and unrelated Donna Lee in the foreground.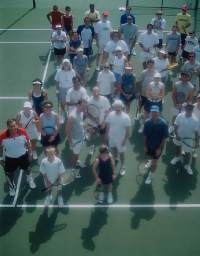 July 18, '03 minicamp at PLNU.