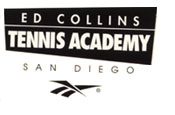 Alliant International University is located within the north-San Diego community of Scripps Ranch, a twenty-minute drive from downtown San Diego. Campers are housed in air-conditioned apartment-style dorms that include a small living room. A pool is located adjacent to each on-campus apartment building.
The six-court AIU tennis facility is located a few steps from the apartments/dorms and a short walk from the cafeteria. PLNU's six-court facility sits on the south end of campus, a few-minute walk from both the dorms and the cafeteria. Many of the west-facing dorm rooms on campus have ocean views.
The view from the dining hall at PLNU's Nicholson Commons. Adjacent: sunset at Ocean Beach.
Click here to be added to ECTA's TennisInfo by EMAIL
Tel/fax: (619) 296-3436
Questions? Email info@ectennis.com
Home Page/Camp Sign-up/ECTA Yr-Round/Photo Gallery/Publications/Peninsula Tennis Club
ECTA Newsletter/Collins Tennis Scholarship Fund