Bradshaw, Placek Win SoCal
ECTA students Allison Bradshaw and Mike Placek won singles titles at the 1998 SoCal Junior Sectionals. Bradshaw, a June graduate of San Diego's Patrick Henry High, and now a freshman at Arizona State, won both singles and doubles titles in the Girls' 18s. Held in Fountain Valley in June, in the singles final she defeated Rebecca Harvey of San Diego, 6-0, 6-0; and in doubles, she and longtime partner Abigail Spears defeated Tiffany Brymer and Biffy Kaufman, 6-2. 6-3. Placek, a sophomore at Torrey Pines High in Del Mar, strung together four good wins to garner the Boys' 16 title. In the final he upset #1 seed Phillip Sheng of Thousand Oaks, 4-6, 6-1, 6-3. (Earlier in the month, Mike reached the singles final of the S.D. Boys' CIF Championships.)
For both Bradshaw and Placek, their wins earned them the #1 position on Southern Cal Intersectional Teams. Bradshaw went undefeated in singles and doubles to lead the girls' 18 team to a USTA national title. Placek, playing on the boys' 16 team, which finished third, went 1-3 in singles and 3-1 in doubles.
---
Bradshaw-Spears Net USTA Doubles Title
Allison Bradshaw's first national title came in what may be her last junior tournament. Together with Abigail Spears, Allison won the 1998 USTA Girls' 18 Doubles title.

Held in San Jose in August, in the final the girls defeated Whitney Laiho of Middletown, Rhode Island and Erin Boisclair of Agoura Hills, California. The win earned them a wild card entry into the 1998 U.S. Open doubles draw.

In singles Allison lost in the quarters to Laiho, the tournament's #3 seed. In the round of 16 Allison upset the #2 seed, Florida's Lauren Kalvaria.

Meanwhile, Mike Placek was having similar success at Kalamazoo, Michigan in the Boys' 16, where he also lost in the quarters. Seeded #31, Mike lost to Trey Davis of Texas, 6-1, 6-2...In the Boys' 14s, held in San Antonio, Texas, unseeded Eric Yandoc made it to the round of 32.
---
Bradshaw-Spears at the Open
In what certainly was an experience of a lifetime, Allison Bradshaw and partner Abigail Spears were participants in this year's U.S. Open.
By winning the Girls' 18 Nationals, they qualified for the women's main draw, where they played the French team of Caroline Dhenin and Emile Loit.
Allie and Abi lost the first set in a tie-breaker, won the second 6-3, and were up 4-3 in the third, 30-love on Allison's serve. It was as close as they got, losing 6-4. The French team reached the quarters before losing.
---
Camp '98 a Success
Ed's 29th camp season was, according to all measures, fun and successful. Held at Point Loma Nazarene University for the second time (4th actually; camps were held there in 1977 and 1978), sessions were mostly filled. The summer season included four week-long junior camps, 3 weekend (mostly) adult minicamps, a pre-sectionals training camp and a first-ever Beach-and-Tennis Day Camp. A post-summer weekend camp was held for the girls' team at Santa Maria High (9th annual), and, together with Gretchen Magers, a weekend Baja Getaway, took place at the Estero Beach Resort in Ensenada.
Assisting Ed at camp again was longtime associate Larry Willens, who took time off only to attend Padre games. Counselors included St. Augustine High Coach Ovie Soto, Scott Levin (La Jolla High/NYU), Adam Schwartz (Bishop's School/Bowdoin), Van Chu (Serra Mesa High/Miramar), Eric Faulk (SDSU), Stacy Roeck (Torrey Pines High/Wake Forest), and Brooke West (Bishop's/Michigan State).
Noteworthy: At junior camps there was an average of 2.2 trips to the beach per week...Four of the staff members were former campers...At the first minicamp, 13 of the 29 were members of USTA women's league teams representing NorCal's Decathlon Club; and in the third minicamp, 17 of the 25 students were from the club's men's team. In the second junior camp 17 hailed from St. Louis, where former USD player Terry Ward ('82) directs tennis at the Frontenac Racquet Club (3 of Terry's 5 kids brought 14 of their friends)...40% came fromS.D., 26% from SCal/NCal, 28% from out-of-state and 4% international.
---
Send-a-Kid-To-Camp
Thanks in great part to the involvement of NBC Sports announcer Dick Enberg, the inauguration of the Send-a-Kid-to-Ed's Camp Campaign was a success...More than $5,000 was raised from a number of sources, making it possible to assist 15 children who otherwise wouldn't have been able to attend. The 1999 goal is to help at least 20 youngsters, which will mean another $3,000 must be raised.
---
Friars Fifth at BJK Invt'l
San Diego's entry in the 3rd Billie Jean King/USA Teamtennis Nat'l Junior Invitational, the San Diego Friars, finished fifth among 16 sectional teams.
Held at the Barnes Tennis Center August 20-23, the Friars won four of five matches. Team members: Jody and Eric Scheldt, Heather Shelby, Andrea Sanders, Mike Coelho and Van Chu; and coaches Ed Collins and Eric Faulk.
---
Mostly Fact
Before turning 40, Peter Herrmann (USD'82) got married, to Nicole Elliot, on July 25, 1998 in San Diego. Teammates attending were Scott Lipton ('81) and Terry Ward ('82)...Speaking of Ward, in April he helped the St. Louis Cardinals make a TV promo piece with Mark McGuire (see pic)...Mark Huarte ('95) married Kelly Ervin, on Aug. 1st in Olympia, WA. Teammates attending were Robbie Seward (groomsman; attempted Buffet tune at reception), Fredrik Axsater and Tim Truebenbach...Brian Turner ('83) resigned as UCSD's tennis coach... Maris Luters ('85) flies for United?...Jim McNamee ('87) shows out-of-towners every Seattle-area Shurguard Storage Center, whether you care or not...Frito-Lay transferred Rob MacKay ('88), pregnant Aida and Robito to Dallas... Chris ('88) and Corey Smith spent a month in Greece... Rick (89) and KayT? Matheson's son is named Nicholas... Barry Ponticello's name is now on a letterhead of a S.D. law firm... Tato ('92) and Giselle Noriega are expecting (email him at nobex@correo.dnet.com.pe)... J.J. Shobar ('95) has taken a S.D. elementary school teaching job...Darren Potkey is the men's tennis coach at Claremont McKenna...Akida Mashaka is in his final year at Harvard Law School (and still spends most of time watching sitcoms and ESPN)...Jack Whigham, a '99 Fla. grad, heads to law school...Jon Gilula, '98 Princeton grad, is now a source of Padre tickets, where he's now employed...Vo Chu graduates from Ohio State in Dec., '98...Personal: Spent a May week visiting east coast college tennis-playing students, and one week at the U.S. Open, watching student Allison Bradshaw, socializing with former asst. coach Kevin Platt and wife Jill. On the way back to SD, had a layover in Cincy; called Mike & Anne Marie Reid; postponed return flight to SD, spent the eve. catching up at Howl at the Moon Saloon, on a barge on the Ohio River.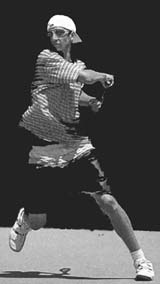 Mike Placek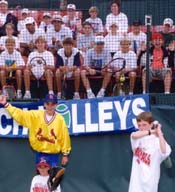 Corley, Shannon & Chris Ward, among others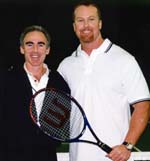 Terry Ward and you know who